Yichen Ding / M2 student
Hello, I am Yichen Ding, a Master Year 2 student of Tei Laboratory. Now I am researching blockchain-based cooperative incentive system for emergency road right transferring. In this research, I focus on using blockchain technology to let other vehicles know the situation when there is an emergency and encourage them to transfer the right of way by giving them certain rewards. Here we have a very intimate and friendly atmosphere in our laboratory. We study and discuss together and help each other. Professor and seniors will give you suggestions to find your goals and help you reach them step by step. In this laboratory, we can learn adaptive systems, IoT and autonomous driving, find a range of topics and conduct research based on our interests.
In September 2021, a team of three people, two of them come from our laboratory, including me. We have attended a business idea contest organized by M-sec, a project committed to developing smart cities. This competition hopes that the participants will propose solutions to the various problems that the elderly may face in today's circumstances, such as COVID-19, living alone and inconvenient mobility. Through brainstorming and teamwork, we proposed a design of a smart device to help relieve the difficulties that ageing people living alone may encounter, and finally, we were awarded.
So, at Waseda University and our laboratory, you will have the opportunity to understand current trends in the industry, expand your horizons, and make new friends. If you have interest to join us, we are looking forward to seeing you!
Prasanth Senthilvelan / M1 student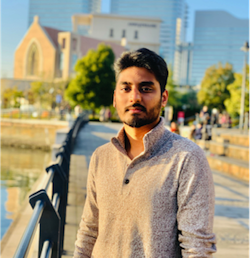 Many new topics and issues are emerging in the fields of computer science and engineering today. Tei lab is the perfect choice if you wish to find innovative solutions using Computer Engineering skills. This lab allows us to explore any topic in computer science and engineering, such as Artificial Intelligence, Internet of Things, Autonomous Driving, Self-Adaptive Systems, and so on.
When I first joined at the lab, I had no idea what research topic to pursue. Then I began to study a lot of research papers in order to gain information and understand what the most recent research findings were. Then I decided to focus my research on autonomous driving. Then I studied research articles to expand my understanding in the subject of autonomous driving. Then I worked with various simulators such as Geoscenario and SUMO, as well as UNITY 3D, to create scenarios for autonomous driving maps. I was also developing autonomous driving simulators, such as the LGSVL simulator, which allows for the testing and development of autonomous driving software systems. Furthermore, the LGSVL simulator is fully integrated with Autoware, a popular open-source platform. Later, I built Autoware so that we could use it to test my future localization, perception, and path planning algorithms. I couldn't go to the lab during this period because of the corona virus. As a result, the lab permitted me to use an AWS server with sufficient speed, memory, and other features. This lab gives us with everything we need to continue our research and supports us. When I initially started working at the lab, they gave me a MacBook Pro. They also have iPads, novels, and other items. Then I did my bachelor's thesis on safe reinforcement learning.
The professor, my seniors, and the surroundings are all reasons why I enjoy working in this lab. Professors are extremely helpful and supportive in assisting me in achieving my objectives. They make suggestions to me every week, and they want to help me develop and attain my goals. And my mentor and the senior members of the lab assist me with my problems, whether they are technical or not. Also, because I can go to the lab whenever I want and focus on my study, the environment is fantastic. This lab prepares us to achieve our long-term objectives. Professors and mentors assist us in accomplishing our objectives. This lab also gives us an understanding of what postgraduate and PhD studies are like and prepares us for future education. And Professor Tei always gives us a good advice which is to determine the direction and study the area. And then read research papers to find a boundary.
Zhenyu Mao / B4 student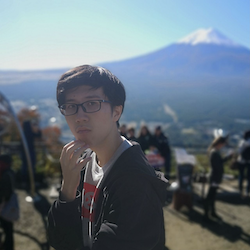 Hi, I'm MAO and I've joined Tei Laboratory for two semesters since junior year.
In the very beginning I joined Tei Laboratory during project research working on IoT systems. By combining microcomputers, actuators, sensors, and other IoT devices, it's possible for everyone to build its own IoT system. It's great fun when you keep testing and modifying your codes and hardware architecture until they finally cooperate well. As I suffered a lot from environment uncertainties when developing IoT applications, later I decided to study further about self-adaptive systems which enable softwares to adapt to any change happened in the environment. Curiosity and motivation are essential for starting a new research, and during researching we eventually gain curiosity and motivation on learning something new. I believe that's a basic loop for our research in the laboratory.
Tei laboratory is very friendly for freshmen who haven't started their "research loop". Even there's only a very general idea, it grows into a mature research roadmap after several discussions with Professor Tei and seniors. They're always willing to offer patient adversing during everyone's research.
For EBSE students like me, Tei laboratory is the best choice. As it can be seen from the language setting of the laboratory website, Tei laboratory welcomes both Japanese speakers and English speakers. During seminars and other discussions, you can use Japanese or English freely. All the notices and guidances are available in two languages as well. If you have any further concerns, feel free to contact or visit the laboratory. Looking forward to meeting you in the laboratory!